Updated: Jan 11, 2012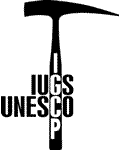 About IGCP
The International Geological Correlation Programme (IGCP) fosters interdiscipinary geoscientific research amongst researchers from around the world. IGCP Projects conduct their business through joint research work, meetings and workshops. Since its establishment in 1972, IGCP has supported just over 500 projects. IGCP operates in about 150 countries and involves several thousands of scientists.
ICGP is a cooperative enterprise of UNESCO (United Nations Educational, Scientific and Cultural Organisation) and IUGS (International Union of Geological Sciences).
IGCP559 gratefully acknowledges the financial support recieved from IUGS and UNESCO.


IGCP Project 559 - Crustal Architecture and Images - Structural controls on landscapes, resources and hazards
Project Objective
This IGCP project focus on that part of planet Earth that has the most significance for the world's communities, namely the Earth's Crust and Upper Mantle; that outer part of the planet on which we all live. The project makes available to communities-at-large a wealth of information and seismic imaging that is commonly only available to research workers but yet has a profound effect on how we think of the landscapes, natural environments and their controlling geological processes and tectonic influences. This information allows an understanding of crustal architecture and tectonic history/processes that is fundamental to any appreciation and understanding of landscapes, surface geology and natural hazards at a local, regional and global scale.

The project aims to bridge the gap between scientific effort and the public interest and give a real insight into nature of the major geological processes in the outer 50-70 km of the Earth that directly affect our lives.

Through the project's web site development phase, it will link and archive images and sources of information on crustal architecture from world-wide seismic imaging programs. Through the sponsorship of key international symposia the project will foster international cooperation and knowledge transfer.

The project has widespread relevance to decision making in the areas of natural resource development, urban and national infrastructure planning, university teaching, groundwater management and natural hazard assessment on all continents.
Project Workplan
The project will continue to develop the web site started by IGCP Project 474 that gives ready access to information on crustal architecture principally determined by seismic methods. The project will also sponsor and support symposia focussed on deep seismic profiling and imaging techniques aimed at further enhancing our knowledge of crustal architecture around the world.
Project Crustal Architecture and Images
Click on area of interest to see available transects for that area (large font, bold centred and just above map) or select Seismic Images here or on the Left Hand Tool Bar to navigate to the transects pages.
Project Map
Project Summary
Any true understanding of landscapes, surface geology and natural hazards requires an understanding of the tectonic processes that have resulted in the present-day terrains. This understanding can be accomplished only through an appreciation of deep crustal architecture that is revealed by seismic profiling, wide angle or tomography techniques. Projects involving deep seismic profiling across the continents, their margins and the deep ocean basins are very expensive and usually require national and international budgets of many millions of dollars. Many countries cannot usually fund such projects alone and thus international cooperation is required for the results of such projects to flow to the wider scientific community and the public.
This IGCP project will advance the wider understanding of landscapes and surface geology through knowledge transfer and geological understanding of the processes within the Earth's deep crust and lithosphere that have led to the present-day terrains.
The Working Group of geoscientists leading this IGCP project believe that they are well-equipped to provide leadership within the international seismological community and take an active role in not only bringing together seismologists at regular specialist meetings but are also in a good position to bridge the gap between the specialist scientific community and the public.
Web-based communication is a key element within the proposed project. The web site http://www.earthscrust.org will provide an ongoing repository for information on crustal architecture using seismic profiling techniques and a resource for the public and wider scientific community. The project Working Group includes many leading exponents of deep seismic profiling methods who are actively involved in generating geological and geophysical research.
The funding sought from IGCP/UNESCO/IUGS is very important to the viability of the project because 1) it will provide seed monies that help enable keynote speakers and students attend international symposia supported by the project, and 2) it will provide support for the development of the project web site, a critical facility for long-term links/network connections to sources of information and data.
---
Project Acknowledgements
| | |
| --- | --- |
| | The IGCP 559 Committee wish to acknowledge the support in Geoscience Australia in hosting and maintaining this web site. |
| | The IGCP559 project committee gratefully acknowledges the financial support it receives from IUGS and UNESCO |